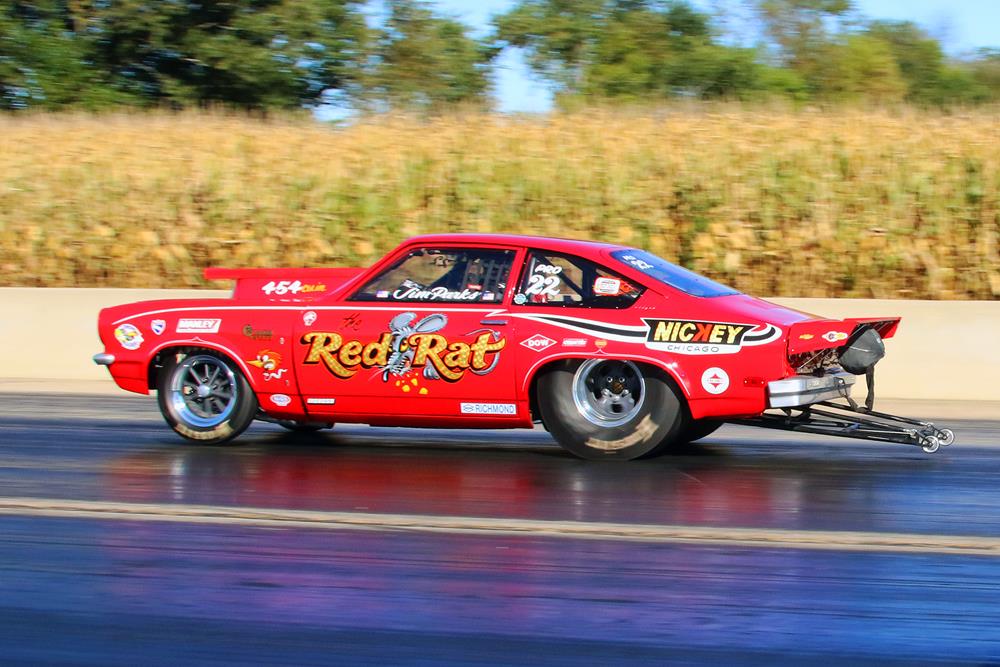 When Mother Nature had the final say by raining out Great Lakes Dragaway's Time Machine Nationals on Labor Day weekend, the disappointment was widespread. Yet drag racers are a resourceful bunch. With our friends at the iconic Southeast Wisconsin track we regrouped and staged an expanded Nitrous Street Car Brawl in mid-September.
The monthly Brawl program is impressive in its right, with several groups engaging in competition and match race action, including the Midwest Nostalgia Pro Stock Association. This NSCB would also add fuel funny cars and dragsters, jet cars and wheelstanders. It would be program would be jam packed with action throughout the day and into the night. And the weather? Outstanding!
Towing in was Jesse Branham, Hannah Fleishman, Bob Haapakoski, Dan Manesis, Mike Morrill, Barry O'Sullivan, Jim Parks, Josh Parks, Tyler Shenuk and Bob Unger. With the expanded program and earlier start, everyone went right to work preparing for the day's matches.

Team Haapakoski chose to get at least one test hit in before the program started, so Bob, Allan and Andrew swarmed over the AMX to get it prepared.

Hannah Fleischman was healing an injured foot, so dad Steve was tabbed to drive the Vega with Hannah crewing with fiancé Marcus Maksimovic. Also choosing to make a test run, Steve lined up next to Haapakoski. After backing up from a strong burnout, it was evident from the water on the track that the Chevy had a problem. Pushing off, the team decided the car was done for the day.

The Fleishman's car may have been done for the day, but this family sure wasn't. Steve pitched in to assist Barry O'Sullivan, among others, Marcus was seen towing Mike Morrill's Monza back to the pits after its runs, and Hannah set up the round pairings.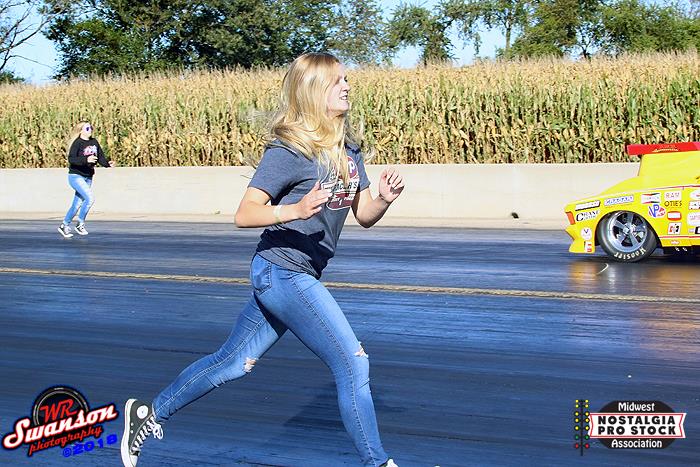 With three scheduled matches on tap, it was time to head to the lanes and get to racing.
First up is Tyler Shenuk taking on Dan Manesis. Both lay down big burnouts, carrying them out several hundred feet and giving Mikayla and Allie a little workout….

Once these two pulled into the beams both hit the tree hard with Schenuk getting a mere .010 reaction time advantage while yanking the front end skyward. Manesis made up that tiny deficit in a big hurry, but Tyler's Firebird kept pace to the 330′ mark then fell off. Reportedly some bugs need to be worked out of the new fuel system the Firebird is now running. Meanwhile Dan powers the Colt through the traps with his best run ever in this car, a spectacular 7.484 at 187 mph!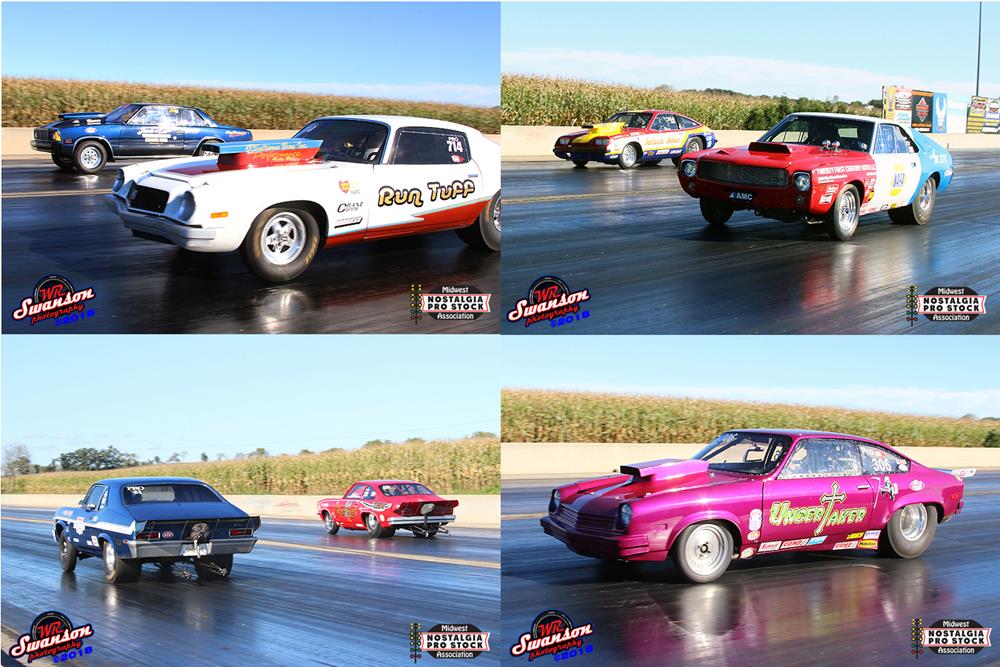 Jesse Branham had assigned crew chief Danny Ortiz to wheel his Hillbilly Racing Camaro, but with the engine issues that developed at the previous race not completely resolved, Jimmy "The Butcher" Ilosvay filled in with the Malibu. He would take on Barry O'Sullivan, who would grab huge advantage off the line. Jimmy chased Barry down and went around for the win, recording a 10.233 ET to O'Sullivan's 10.439.
The early test run by Bob Haaposki gave his brother Allan a baseline, which gave him optimism in the pairing with Mike Morrill. Bob absolutely nailed the tree, recording a .011 reaction time. But Morrill would not be denied and powered around Haapakoski, 9.295 to 10.020.
Father and son they are, but when Josh Parks takes on his Dad Jim, they are fierce competitors. Once they got backed up from the big burnouts, these two went at it. Josh drew first blood with .051 RT over Dad's .068. By half track it was over for Josh as Jim powered the Red rat to a 8.533 ET over Josh's 8.883.
With the Fleishman car out, this meant an uneven field so Bob Unger drew the bye this round. He and the UngerTaker Vega reacted well with a .064 RT, then recorded a 10.297 ET at 134 MPH.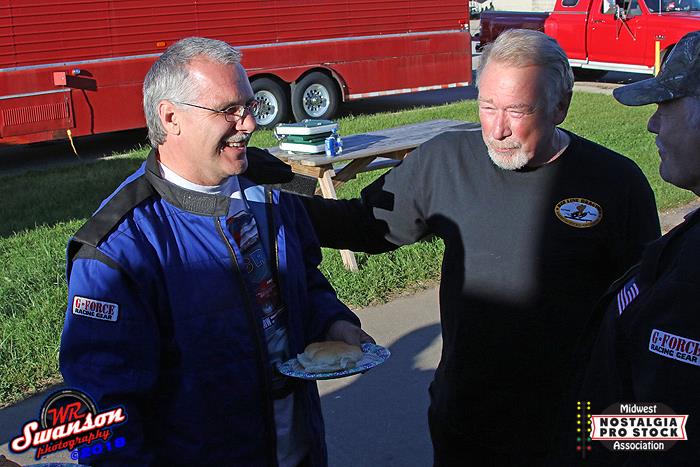 Our between rounds lunch break was cut a little short due to the jam packed schedule. But not before a little bench racing between Bob, Jim and Mike.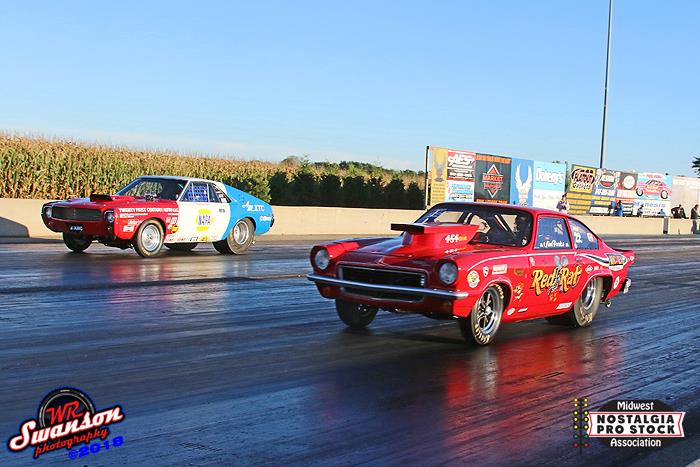 That previously mentioned "bench racing" session? Here is the result. Bob Haapakoski against Jim Parks. Knowing his shot at the win light depended on another great reaction time, Haapakoski took his shot. Unfortunately for him he dropped a red light while recording another improvement in ET, putting a 9.982 ET on the board. Parks also improved from Round 1, stopping the clocks with a 8.462 and the win.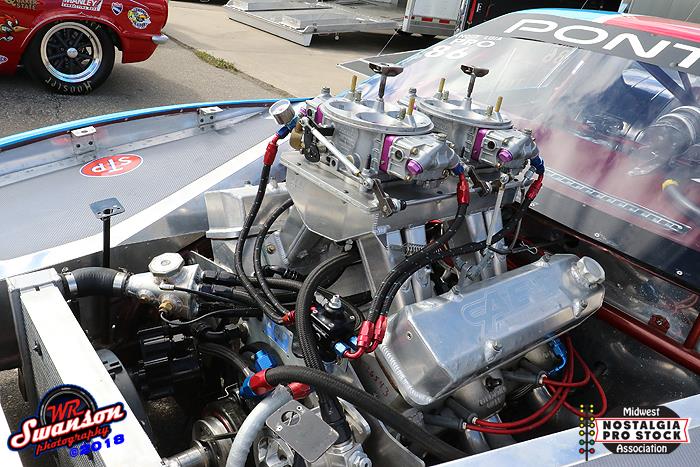 After between rounds tweaks on this impressive AES Pontiac mill, Chris and Tyler felt pretty good about their chances in the rematch against Manesis….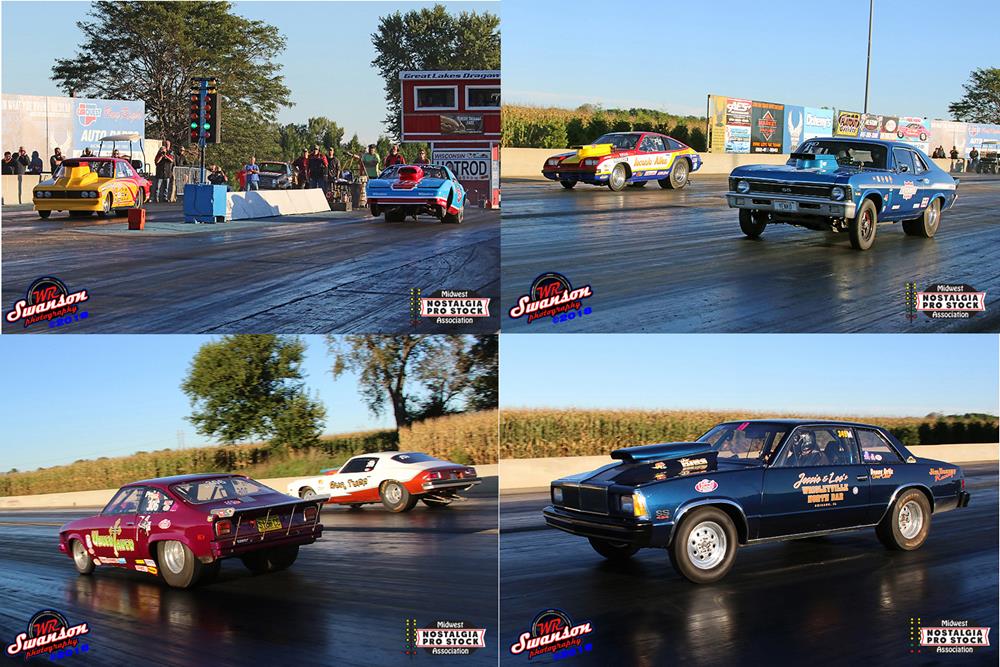 Dan and Tyler both believed they had something for the "other guy". And while both came out of the gate strong, Mr. Manesis strapped a stunning .009 light on Shenuk and added another .010 by 60′. Then by 330′ Dan's Colt got a bit sideways and he lifted. Tyler passed him but also began slowing by the 1/8th mile mark. Shenuk for the win, recording an off the pace 9.54, with fuel system issues continued to nag him. Dan's problem was traced to debris in a rear tire picked up on the way to the lanes.
Mike Morrill and the "Iaconio & Allen" Monza would pair up with Josh Parks' Yenko Nova. Once they took the green both had nearly identical 60′ times but Parks has a reputation as a leaver and his .018 reaction time meant he had a significant lead over Morrill. Parks crossed the stripe first with a 8.851 followed by Morrill's improved 9.147 time.
Barry O'Sullivan drew Bob Unger in Round 2. O'Sullivan also anticipates the tree extremely well, and he put the Run Tuff Camaro well out front of The UngerTaker. Then by half track these guys were nearly even as the Vega found some steam. Unger pulled ahead and turned on the win light with a 10.103 to O'Sullivan's 10.329. Hats off to both of these guys for an exciting race and improved numbers from the previous round.
Jimmy Ilosvay wrapped up the round by taking the Hillbilly Racing Malibu down the track on a single. He recorded a 10.104 ET, which also quicker than round 1.
It was obvious these cars were loving the cooling early evening air.
Round 3 is under the lights with significantly cooler air with a hint of dew.
Before the group got to racing, there were two important public service announcements to be made in the presence of the day's large crowd.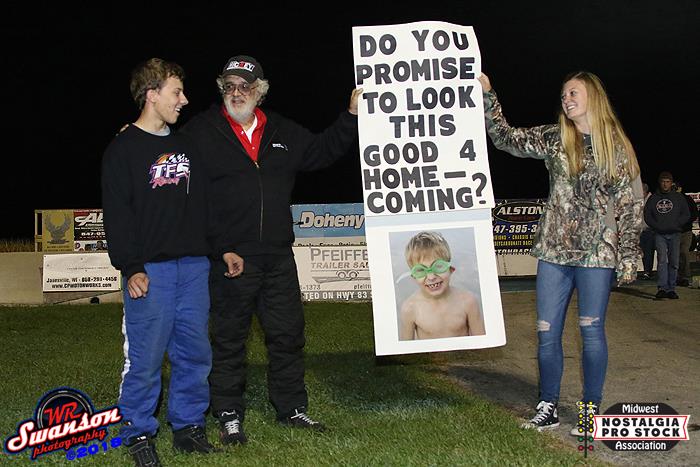 First Mikayla Wassell extended a heartfelt Homecoming invitation to beau Tyler Shenuk. Of course he accepted.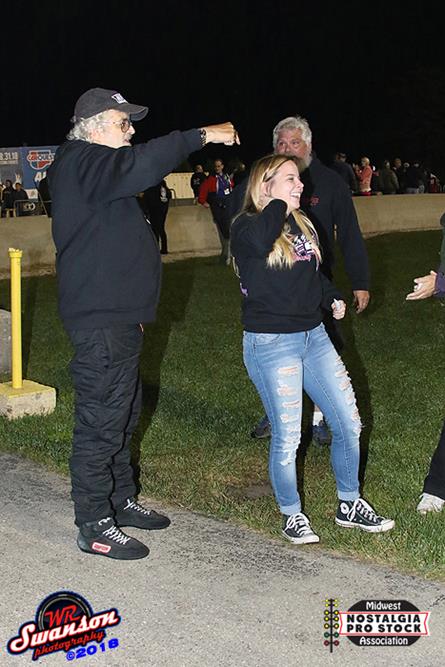 Throughout the day, track announcer Mike "Red Baron" Gould informed the crowd of the momentous occasion of Allie Shenuk's 22nd birthday. Dan Manesis thought this a good time to extend well wishes on behalf of the Midwest Nostalgia Pro Stock Association.
Now it was time to race Nostalgia Pro Stock cars…
Dan Manesis was forced to sit this one out due to the tire issue, while Tyler Shenuk did the same as there was not enough time to properly address the fuel system bugs.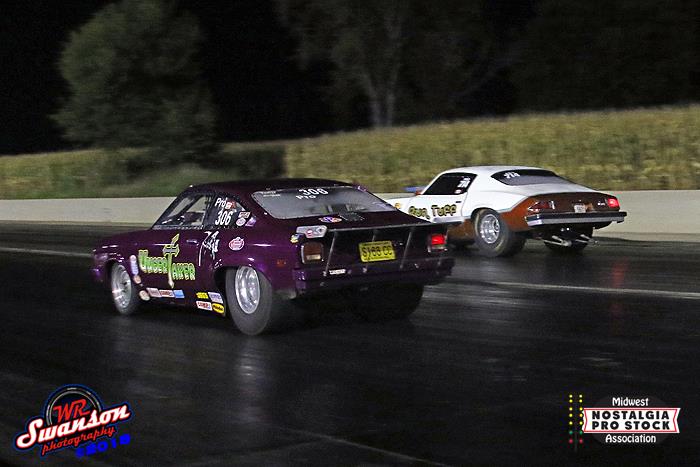 That brings on the O'Sullivan/Unger rematch. Once again Barry put the Camaro out front of Unger at the hit. And Bob stunned the crowd again by powering the Vega past O'Sullivan, taking the win with a 10.090 to Barry's 10.314. Another awesome race from these two.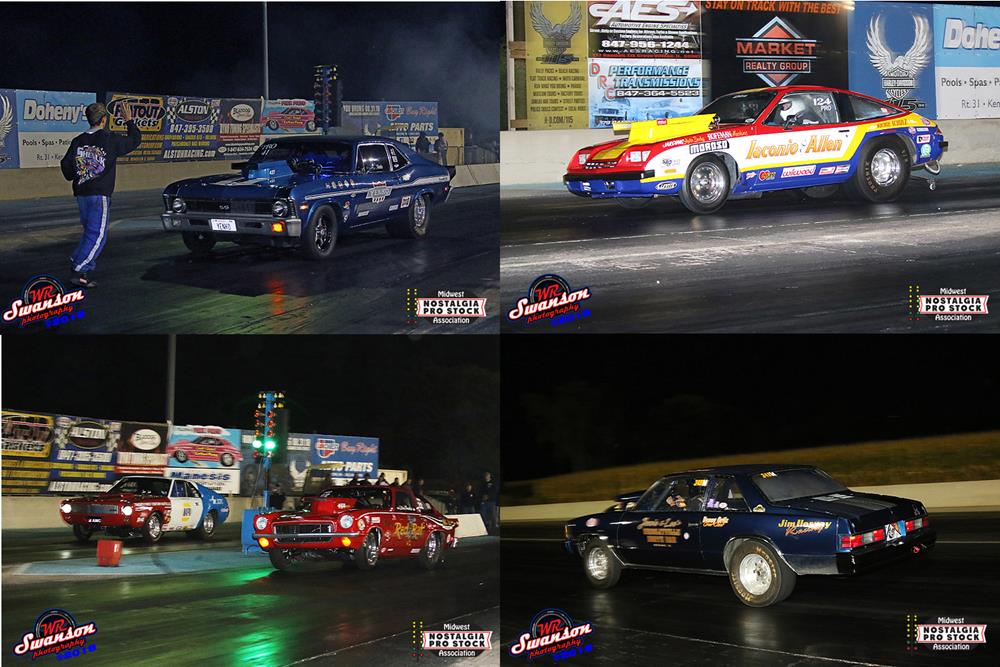 Mike Morrill was looking for redemption against Josh Parks in this round. Parks, with Tyler Shenuk's assistance, was looking for a repeat of the second round. After backing up to stage, fluid was discovered under Parks' Nova. Determined to be fuel, Josh was shut off and Morrill took the single in a traction challenged run.
Bob Haapakoski and Jim Parks then faced each other again. Parks' Vega got the jump on Haapakoski's AMX but he began to lose traction before the 330' block. Bob takes the AMC around Parks earning the win light with a 10.038 ET.
Jimmy Ilosvay wrapped up the night with a low 10 second single run.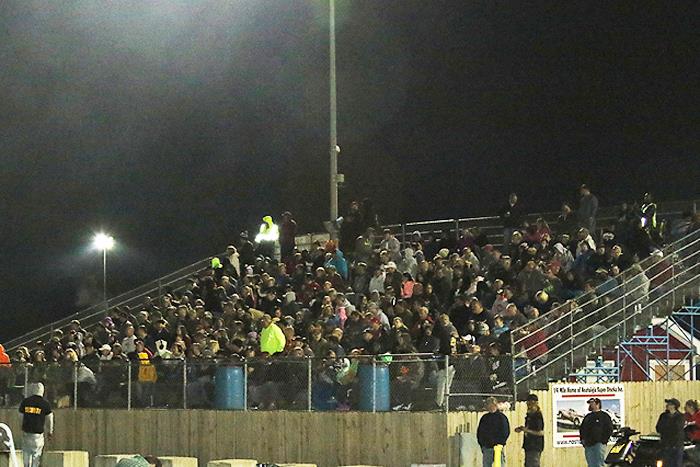 So that wrapped up a long, exciting day at Great Lakes Dragaway. Every racer and participating group was thrilled by the number of fans that filled the stands to support them. And the Midwest Nostalgia Pro Stock Association was thrilled and honored to be part of this special day. Thank you fans and GLD staff!
As it turns out this race was also our finale for the 2018 season. The members of the Midwest Nostalgia Pro Stock Association are humbled and honored by the support of the fans and the management of the tracks where we appear. Thank you Great Lakes Dragaway, Byron Dragway and Wisconsin International Raceway.
Please continue to visit our webpage for the latest news, features and galleries. And check in with us on Facebook for the latest in news and information on what is in store for the 2019 season.