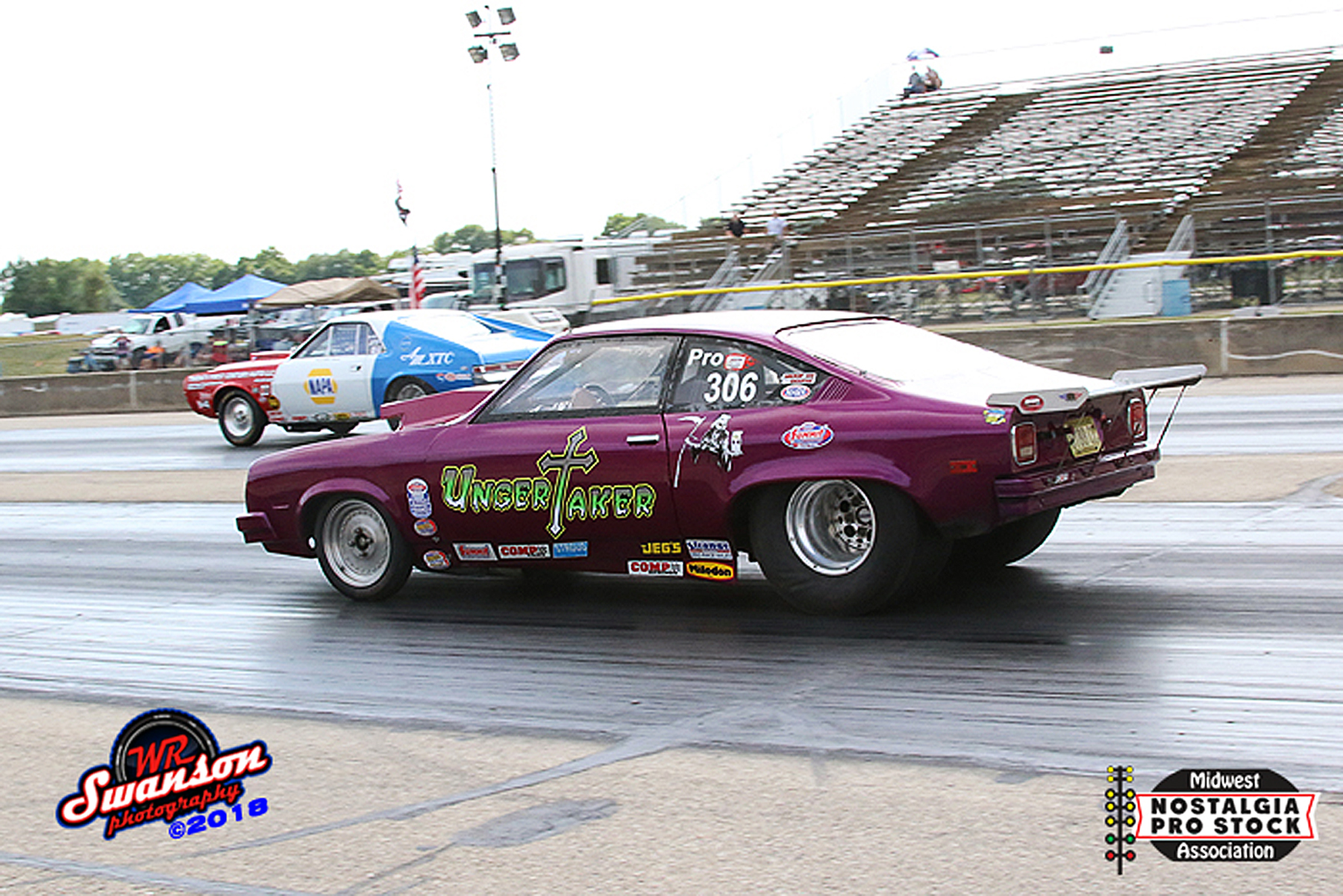 After a month long lay-off due to the forced cancelation of the previous two events due to rain, the Midwest Nostalgia Pro Stock Association couldn't wait to hit the track. With fingers crossed for favorable weather we rolled into Byron Dragway the annual Summer Thunder event. This time Mother Nature obliged us with dry and sunny skies and the only Thunder being on track.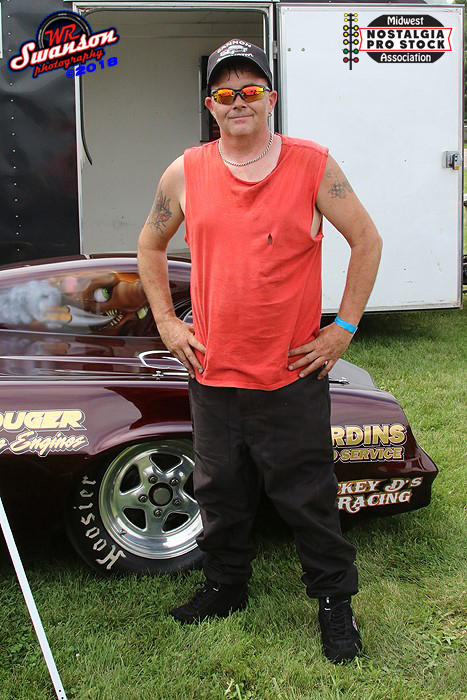 With us at Byron were the teams of Kelly Dill, Hannah Fleischman, Bob Haapakoski, Dan Manesis, Barry O'Sullivan Jim Parks, and Bob Unger. Rounding out the field was our newest member Rich Cannon. Rich and his family hail from Lake Station, Indiana and he was racing a car that is definitely a member of his family. Originally raced in Pro Stock by his father John, this Camaro was then known as the "Silver Dollar" and built by the legendary Romeo Palamides. Numerous updates over the years have included a change from as produced 1971 model to its present 1981 look. Today Rich races it in several bracket series to much success. A warm welcome to you, and your family Rich.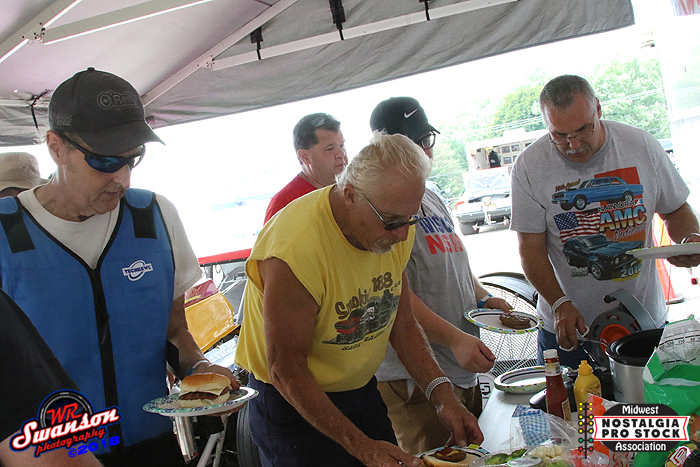 Being part of Summer Thunder means the Show starts in the late afternoon, where we would take part in two scheduled appearances on track. There was time for the traditional feast before the first run.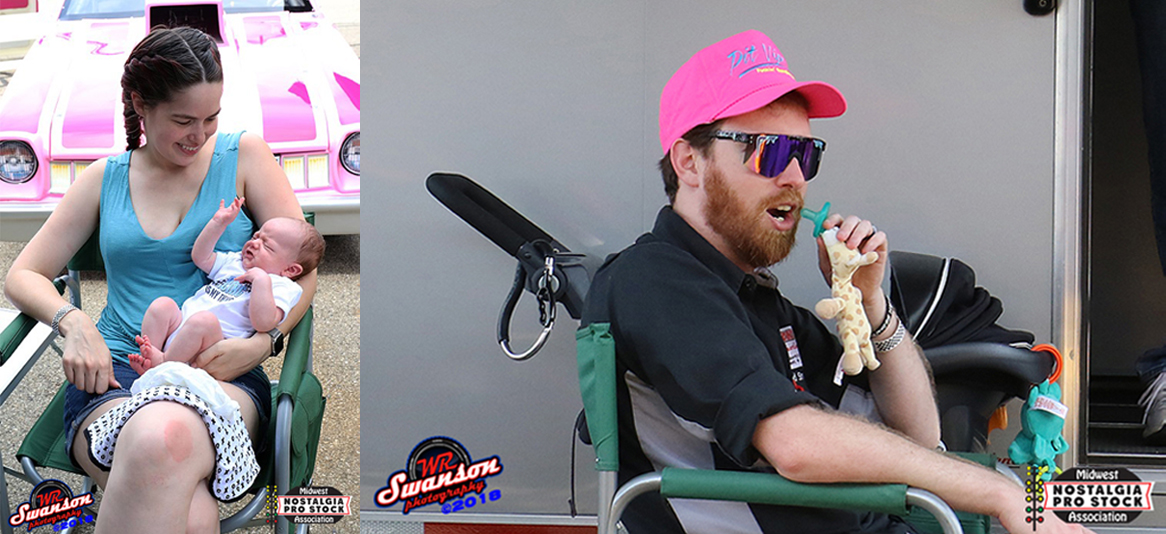 Making his first appearance at the track since entering this world was James Parks, with his mom Lynz. Meanwhile, curiosity gets the better of new dad Josh.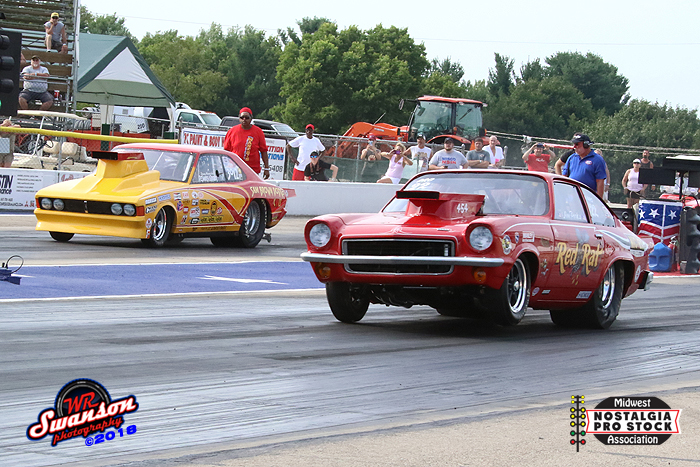 After our friend Russ Shappert of RFC delivered the invocation, it was time to take to the track with Nostalgia Pro Stock kicking off Summer Thunder with Jim Parks taking on Dan Manesis. Both would lay down strong burnouts. When the tree flashed green it was all Parks and the "Red Rat" as Dan's car had trouble leaving the line.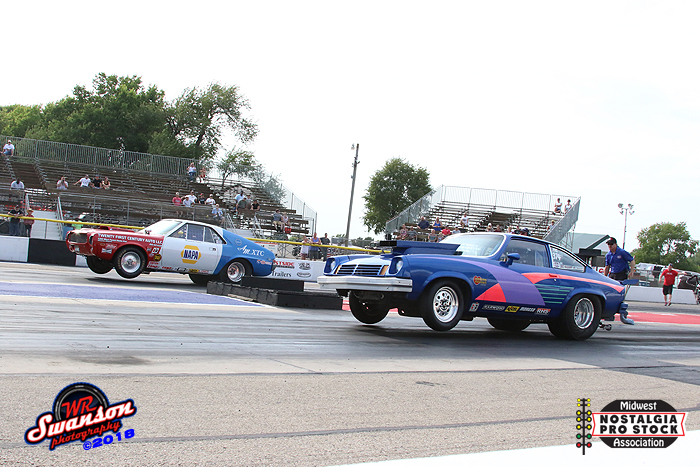 "Hot Rod Hannah" Fleischman would match up against Bob Haapakoski. Brother Allan had put hot weather tune-up in the classic AMX early in the day. Bob then drove it to a stripe to stripe win over Hanna, running a 10.202 to her 10.656.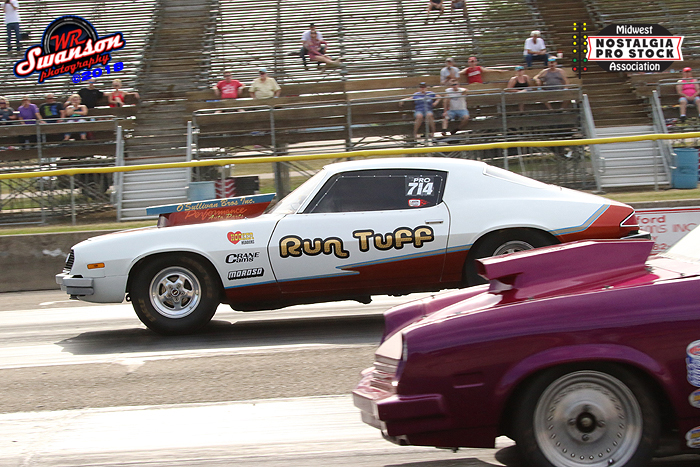 Next, the "Unger-Taker" of Bob Unger would take on Barry O'Sullivan and his "Run Tuff" Camaro. Unger would steal a .042 reaction time advantage from O'Sullivan, who would give chase. Barry's recent upgrades proved the car had the oats, but he came up a little short at the finish line with Unger taking the holeshot win (10.723) to O'Sullivan's quicker but losing 10.694.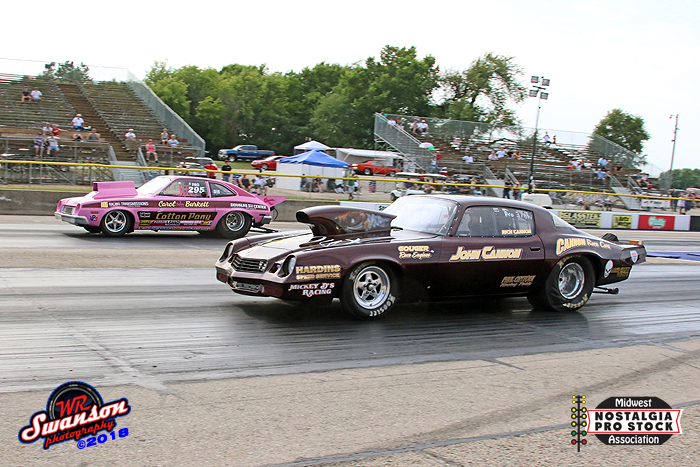 The last pairing of the round brought fan favorite Kelly Dill and the "lil Cotton Pony" to the line against newcomer Rich Cannon and the Cannon Racing Camaro. An unknown entity at this point, Cannon grabbed a .024 reaction time advantage over the formidable Dill. The hard charging Pink Pinto would go around Cannon by 1000′ and take the win, 8.419 to 8.618.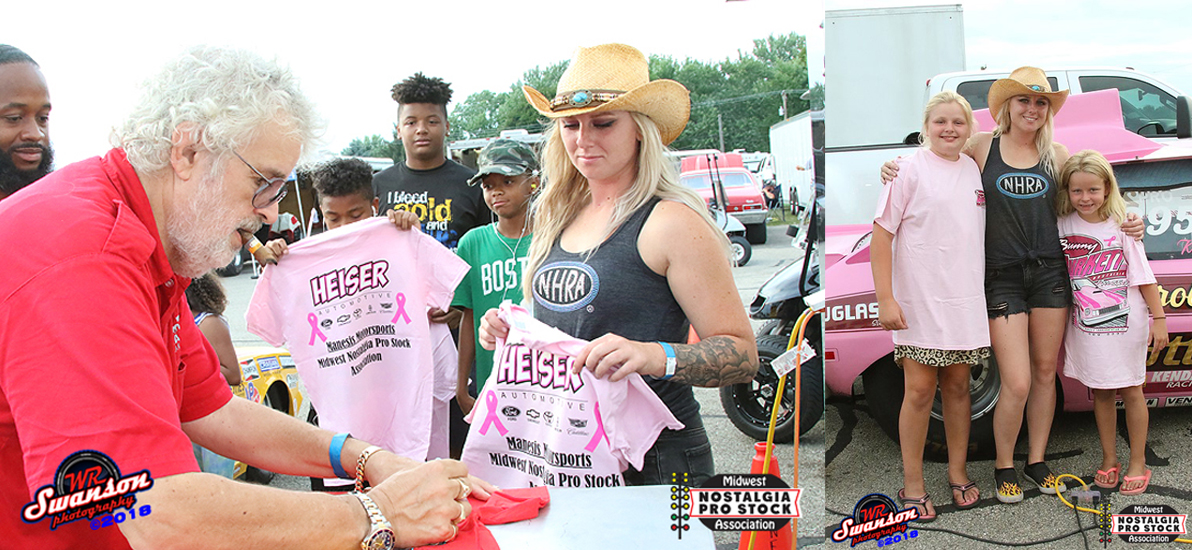 Between rounds we had plenty of time to visit with our fans, with the t-shirt give away and signing drawing many fans and aspiring young racers to the pits.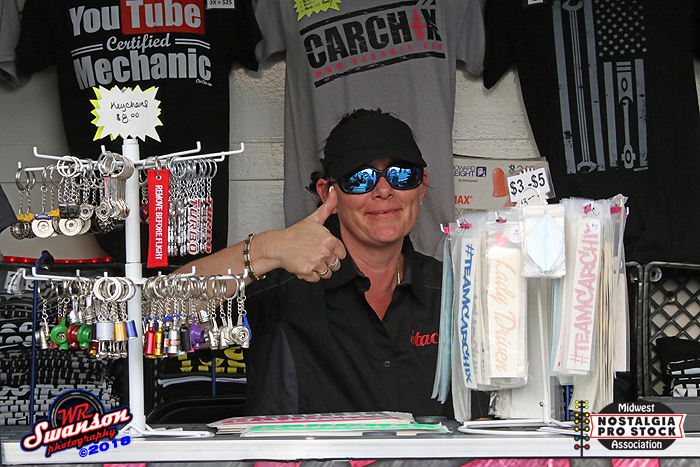 The break in the action also presented the opportunity to give MNPSA friend and webmaster Jeanette DesJardins a break at the Car Chix trailer. Our Stacey Manesis filled in.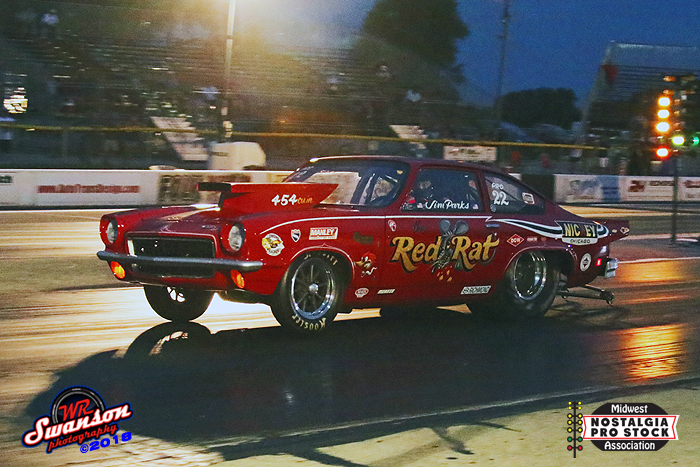 We are under the lights for Round 2.Dan Manesis would again draw Jim Parks as his opponent. Unfortunately for Dan, the mechanical woes that beset him in Round 1 would sideline him in this round after his burnout. ParKs though would run strong, carding an impressive .032 RT and running 8.665 at 149 MPH.
(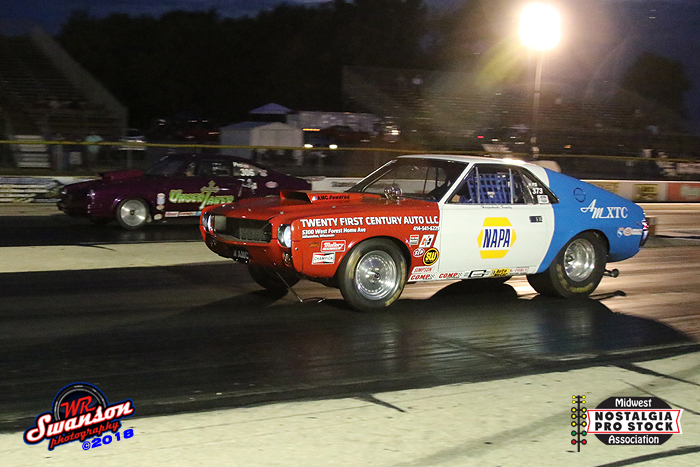 Call this match a "Battle of the Bobs". Haapakoski versus Unger. The Unger-Taker was out to prove his round 1 win was no fluke, and again he tree'd his opponent, this time with a .105 advantage. And while Unger improved upon his round 1 ET with a 10.630, it was not enough to overcome the consistant runs the Haapakoski's put together. AMC for the win, 10.220 at 130.8 MPH.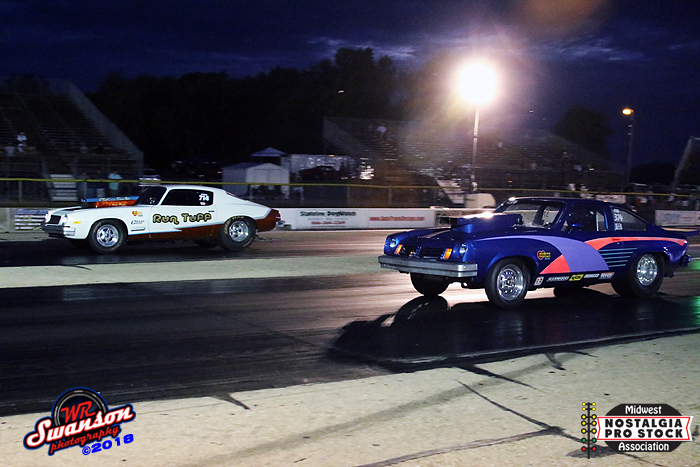 Barry O'Sullivan lived up to the name on his car and ran tuff against Hannah Fleischman. Barry drilled the tree with a .019 RT. He also prevaile at the stripe, running 10.664 to Hannah's 10.684.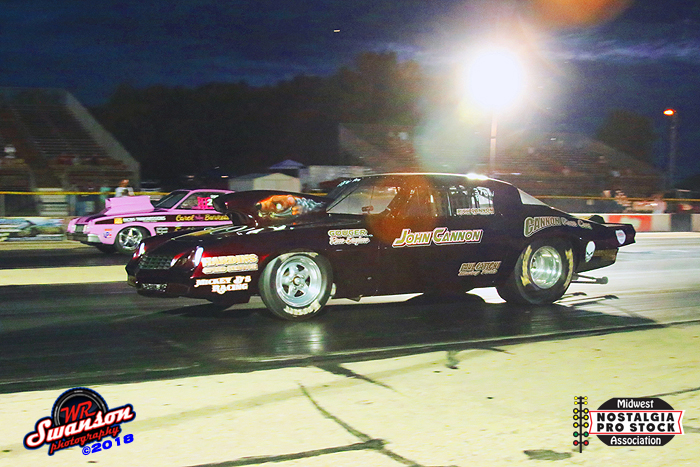 Kelly Dill and Rich Cannon would finish out the night with a very strong performance with both improving from Round 1 by every measure. It also showed that Mr. Cannon will be a force to be reckoned with. He grabbed a .032 RT advantage over Kelly, hitting the tree with a best of the day .010. Kelly whiped her pony hard to chase Cannon down though, taking the win light with a 8.429 at 159 MPH, to Cannon's 8.572 at 152.8.
We were sincerely honored to once again accept the invitation by Byron Dragway to participate in Summer Thunder. Thank you B.J. and Rhonda Vangsness, Randy Simpson, and the entire Byron Dragway family for your hospitality and professionalism.  And most of all, a big thank you to our fans and supporters for coming out to watch us race and visit with us.
The Midwest Nostalgia Pro Stock Association will be racing again this coming Saturday August 18 at  Great Lakes Dragaway in the August edition of the Nitrous Street Car Brawl. We invite you to come out to Union Grove, WI to see some great racing and to support a fantastic race facility.
Visit the Midwest Nostalgia Pro Stock Association webpage to view our full schedule, news, driver profiles, galleries and more. And please visit and  "Like" our Facebook Page for chat and the latest information.
Story and Photos by Bill Swanson