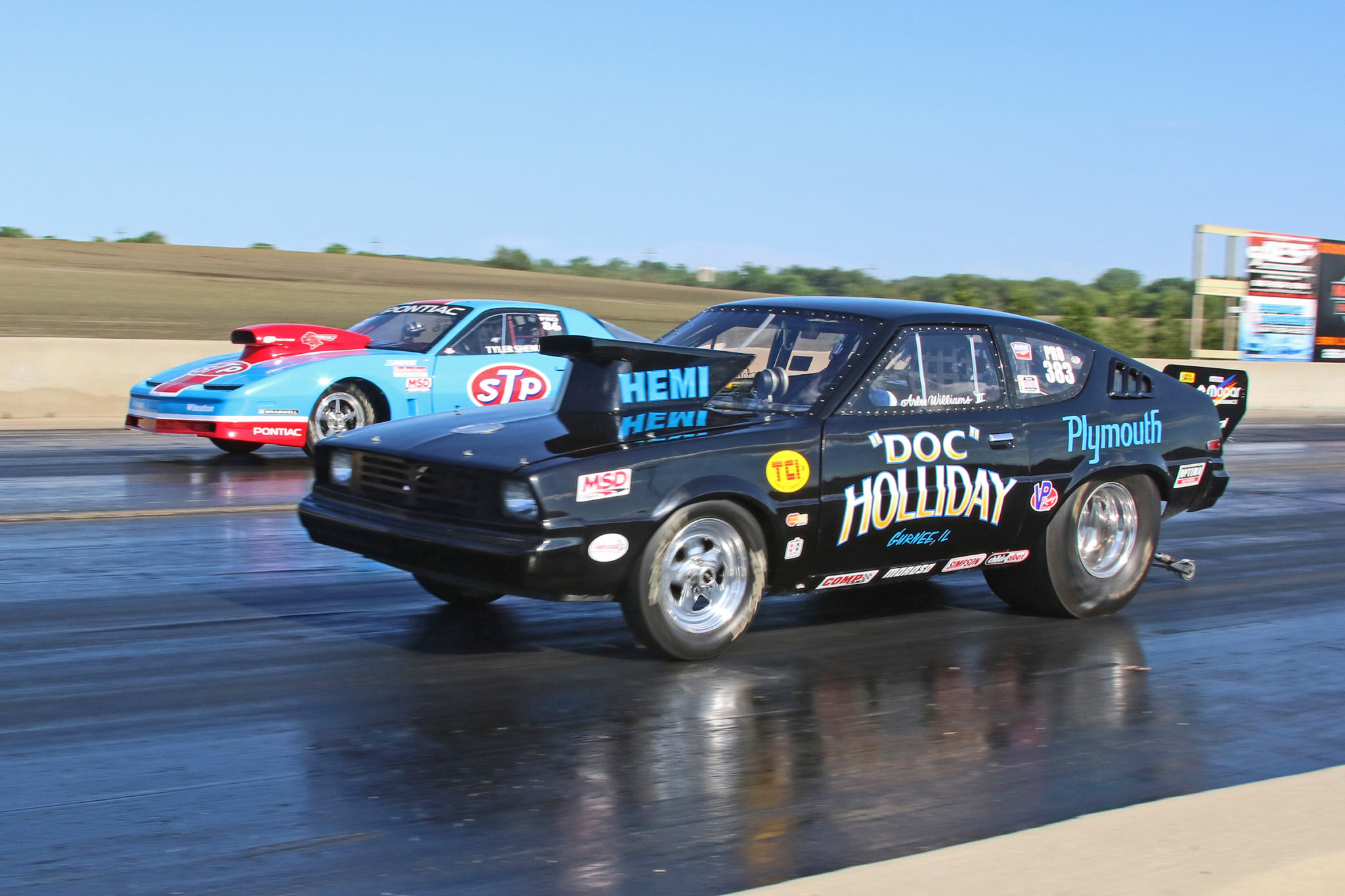 The Memorial Day Classics at Great Lakes Dragaway may be best known under previous names, but that does not diminish its importance to drag racers and fans of the sport in the Upper Midwest. As one of the nation's longest running events, the Classics are marked as the first "Big One" of the season.
For the Midwest Nostalgia Pro Stock Association, the Memorial Day Classics is one the most important events on the schedule and for this fourth year of participation we brought eleven drivers, their crews & families. On hand were Kelly Dill, Jerry Douglas, Hannah Fleischman, Bob Haapakoski, Dan Manesis, Mike Morrill, Jim Parks, Tyler Shenuk, Bob Unger and Arlee Williams III.

Making their debut with the group were the O'Sullivan Brothers, Barry as owner/driver, Frank as crew, and the "Run Tuff" Camaro. Welcome Barry and Frank!

The Haapakoski Family returned to racing with their awesome AMX after parts failure ended their season at this very event one year ago. Bob, Allan, Andrew and Sharon worked extra hard to get the crowd-pleasing AMC back on track. And we're happy they did.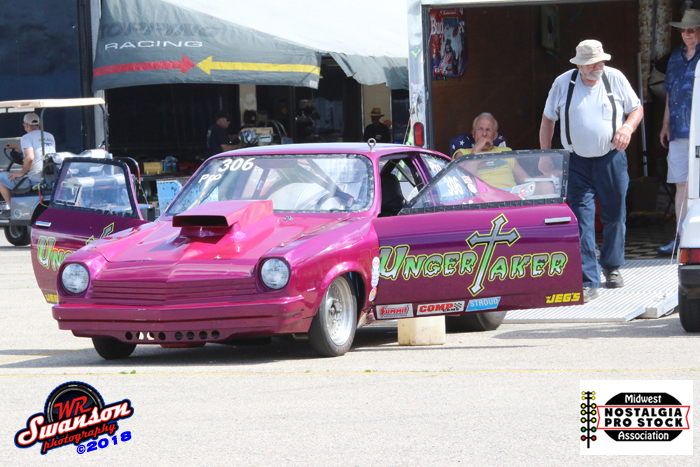 Bob Unger's absence at the May Nitrous Street Car Brawl was evident.  His  "Unger Taker" Vega is one of the most colorful of the group. We were very pleased to see Bob tow in on this Saturday morning. Besides the neat car, Bob also styles with the neatest vintage tow cart on the grounds.

In between some morning test runs and our 1st Round call, Stacey Manesis unloaded several pizzas from Marco's Pizza , the Official Pizza of the Midwest Nostalgia Pro Stock Association. Thanks Marco's!
But before racing, a very important ceremony took place on GLD's starting line. That ceremony marked the graduation Tyler Shenuk from Wheaton North High School. Master of Ceremonies Dan Manesis presided, while track announcer Mike "Red Baron" Gould read a "heartfelt" letter from Ty's driving instructor. Allie Shenuk then presented Tyler with his diploma.  Congratulations Tyler!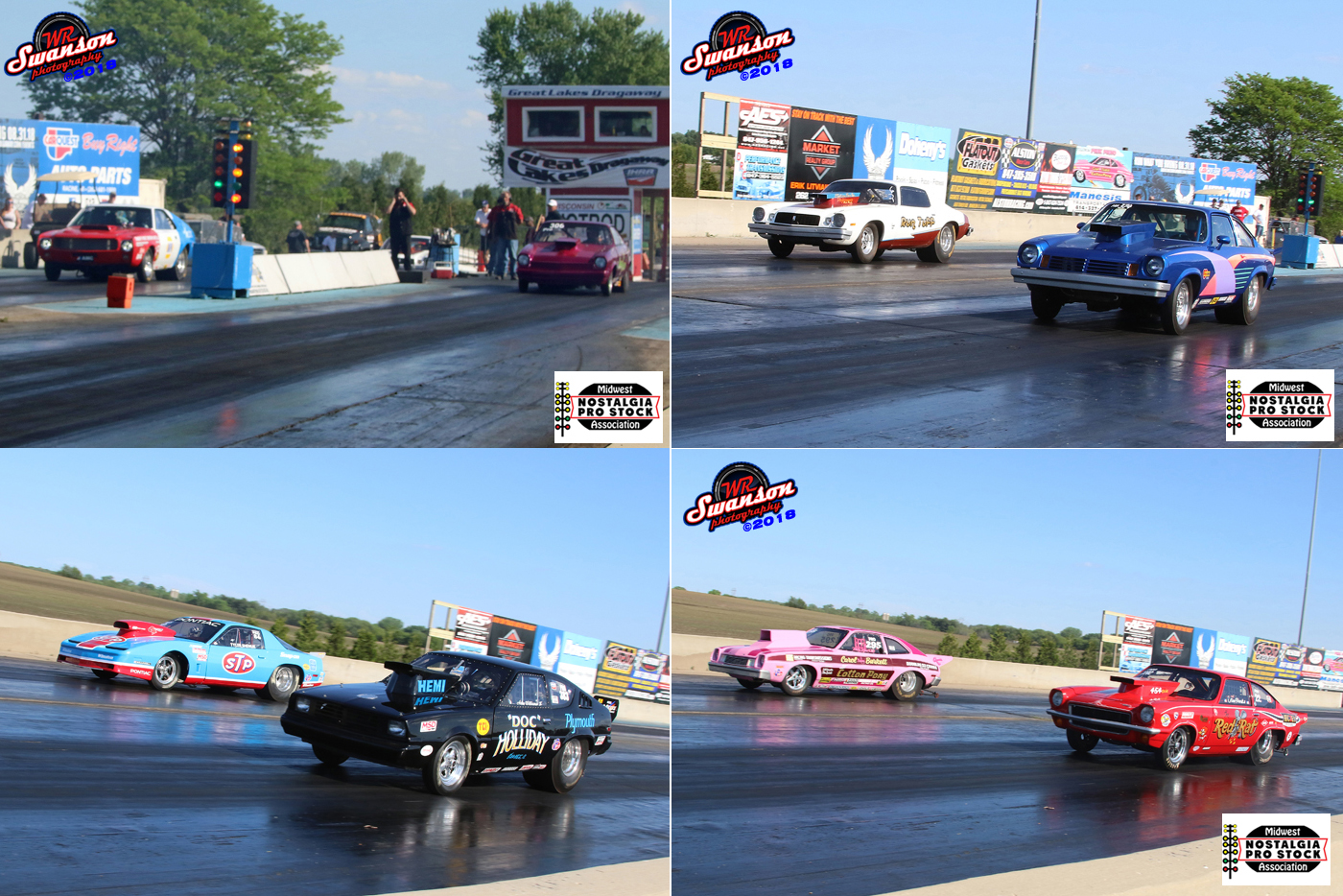 With the remainder of opening ceremonies complete, it was time to race. The opening pair was Bob Unger and Bob Haapakoski. Haapakoski got the win light when Unger went red.
In the next pair Hannah Fleischman was better at both ends of the track over Barry O'Sullivan and the "Run Tuff" Camaro.
The Tyler Shenuk versus Arlee Williams match promised to be great. And it was, despite Arlee and the 'Doc" Holliday Arrow leaving .009 too soon.
Jim Parks knew he had to hit the tree in order for the "Red Rat" to take down Kelly Dill's Pinto. Unfortunately for Parks he hit the tree a little too hard and went red.

Mike Morrill was really pouring on the steam at the big end, but it was not enough to overcome Jerry Douglas' superior reaction time and the Hillbilly Racing Camaro took the win light.
Dan Manesis elected to take the single with the Sam Brown Dodge Colt. The clocks showed an awesome 8.030 ET at 177 MPH.

With the hot sun beginning to lower in the early evening, the staging lanes took on an almost surreal quality.

Opening Round 2 was it was enthusiastic Tyler Shenuk and crafty veteran Jim Parks. Tyler left first with a .044 RT, but the Red Rat was not far behind with a .090. Parks soon caught Shenuk and took the stripe first.
Next Mike Morrill and his Monza would pair with the Run Tuff of Barry O'Sullivan. Both drivers left the starting line with near identical RT's, but Morrill's "Iaconio & Allen" Monza would prevail.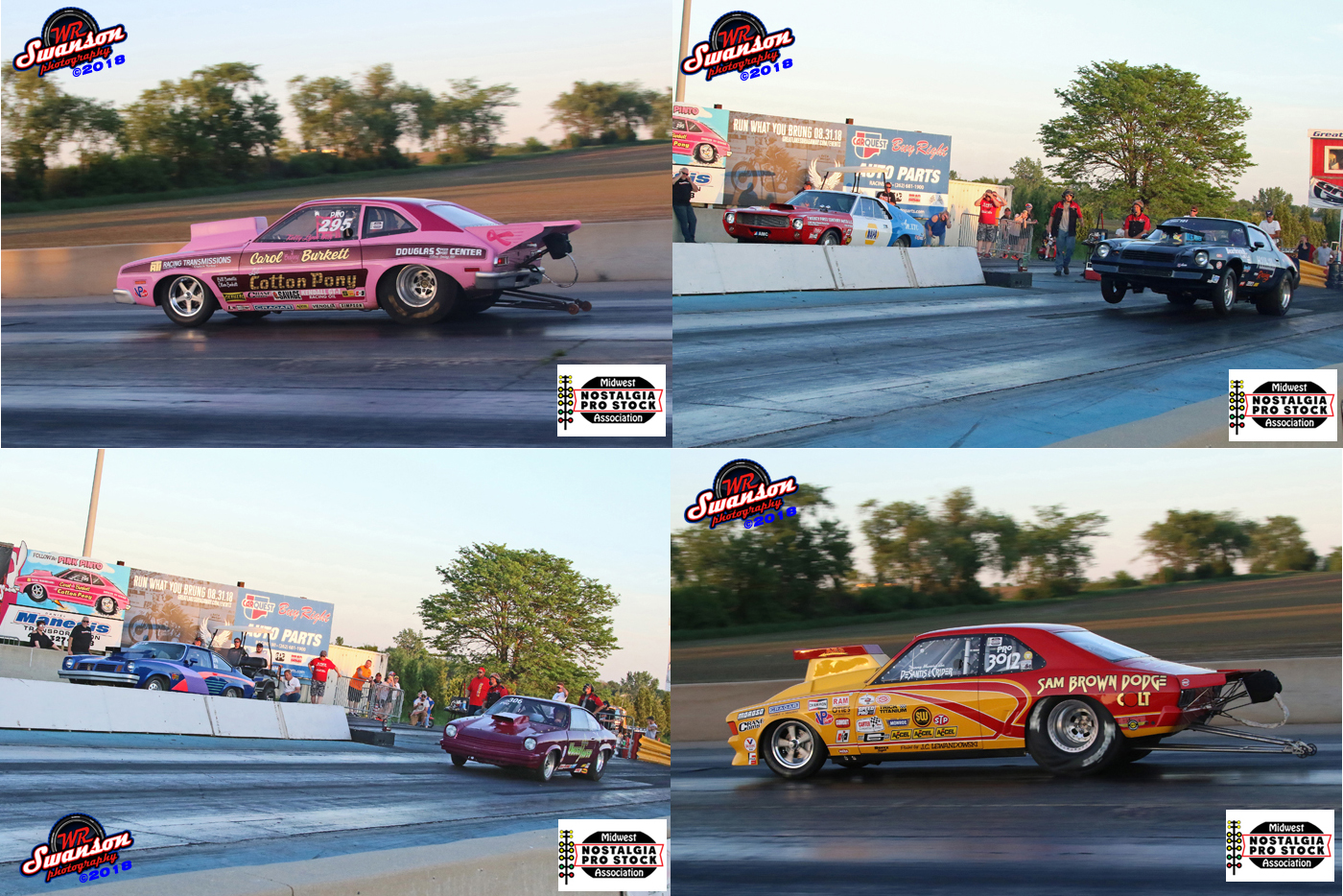 Kelly Dill ended up taking a single when Arlee Williams' Arrow wouldn't stay fired. Crew Chief Lamont Hanna pushed Williams off, while Dill ran a 8.340 ET at 161 MPH.
Bob Haapakoski knew he had some work ahead facing the skilled Jerry Douglas. Haapakoski nailed the tree with an .010 RT and so did Douglas who was a bit early. AMX-TC for the win.
In a battle of colorful Vega's Bob Unger left on Hannah Fleischman, but she drove around the UngerTaker, taking the win.
Dan Manesis again took the single, with numbers off from the prior run, but still impressive. 8.092 at 170 MPH.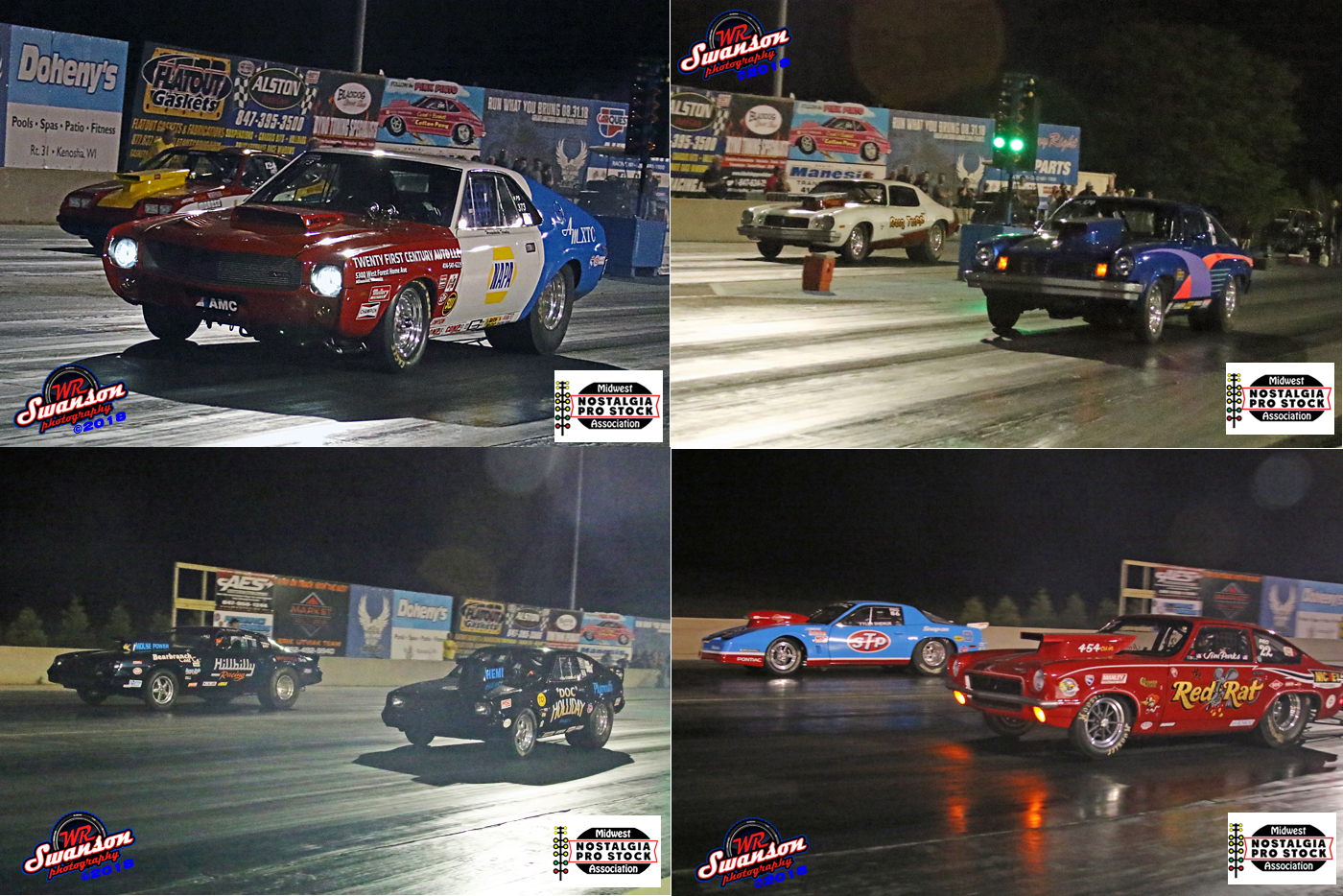 Racing under the lights on Saturday night at the Memorial Day Classics is magic. With the hot daytime air significantly cooled down, it can be fast as well. Leading off was Mike Morrill and Bob Haapakoski, who cut a great light, while Morrill sensed trouble soon after launch and clicked the Monza off and pulled out of the groove
Barry O'Sullivan squared off against Hannah Fleishman who won by virtue of her quicker reaction time.
Jerry Douglas would line up against Arlee Williams, whose car was repaired with time to spare. Douglas pushed the tree and got a big hole shot on "Doc" Holliday, but the Arrow motored around the Hillbilly Camaro for the win.
A rematch between Tyler Shenuk and Jim Parks was next. These two left together with great reaction times with Parks getting an .003 advantage. Glued side by side, the Red Rat started to pull away by half track and motored to the win.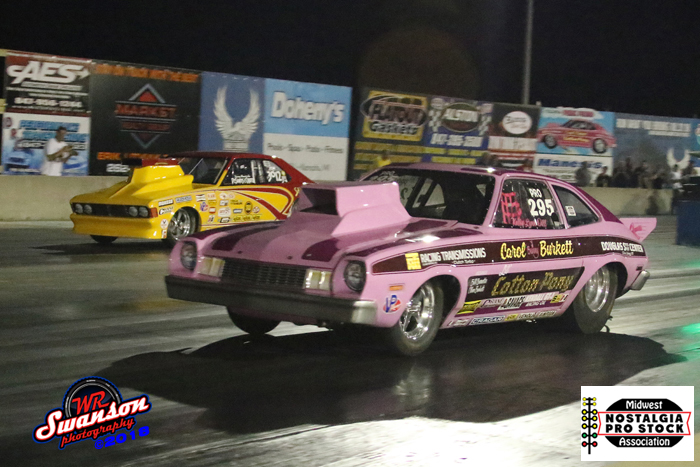 With Bob Unger sitting out the last round with prior commitments, Kelly Dill would see to it that Dan Manesis would not take a single. Dill chopped down the tree and took a big lead on Manesis. But the little Dodge with the big motor was coming…and Kelly held off Dan, winning by a .025 margin of victory.
Thus, ended the first of two days of great Nostalgia Pro Stock racing.

Sunday morning the sun shown as brightly as it did on Saturday, and the temps were forecast to be equally as hot as Saturday. That didn't keep the fans from visiting our pits in advance of the action to come. In fact, young fans like these are our reason for being.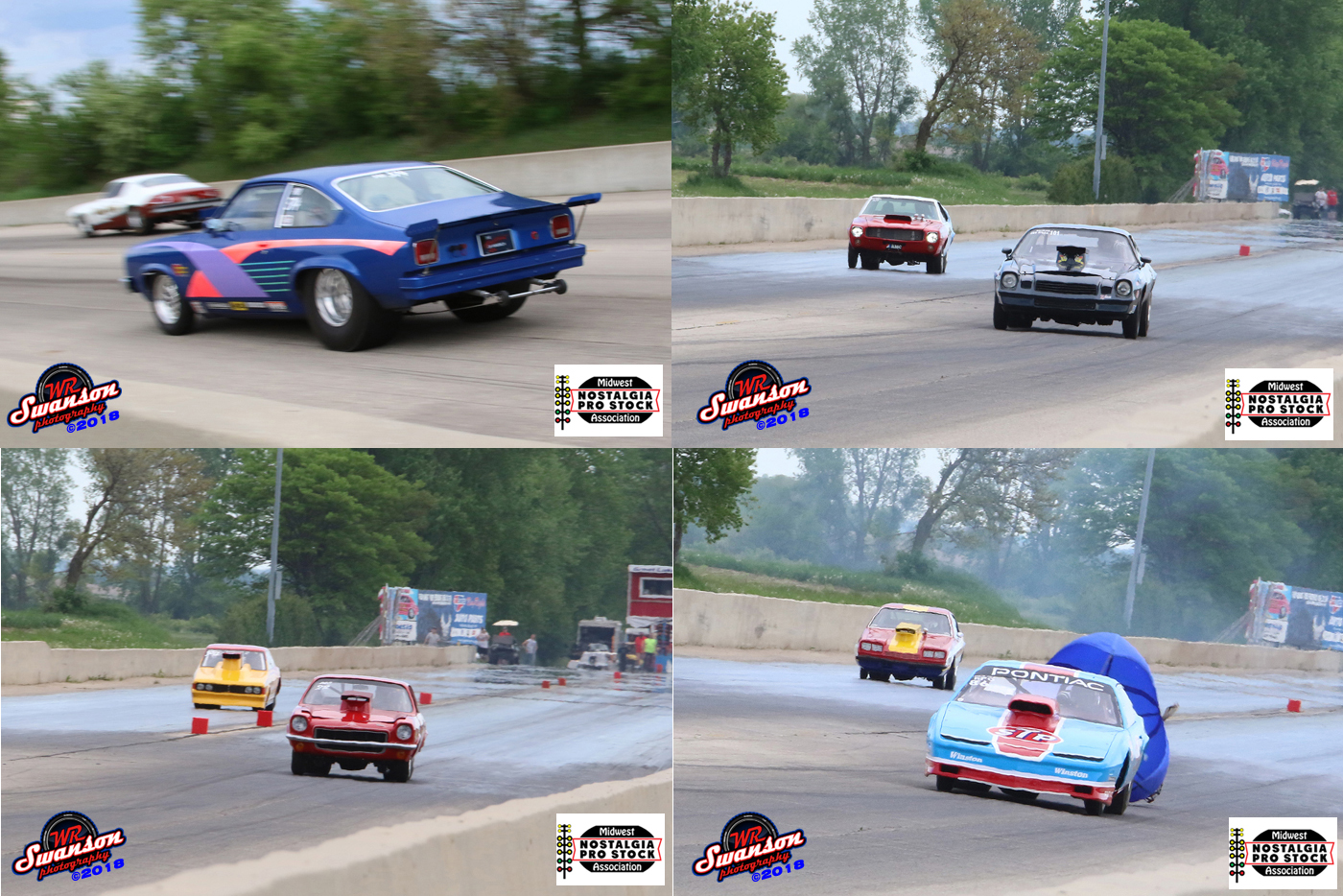 Mid afternoon brought our first round with Barry O'Sullivan taking on Hannah Fleishman.  The Run Tuff Camaro left first with Hannah's Vega uncharacteristically late. O'Sullivan for the win
In short order, Jesse Branham's driver Jerry Douglas has proven to be one of the group's best leavers. But Bob Haapakoski appears to be Douglas' kryptonite.  As in Round 2 on Saturday, Douglas left far too early, delivering the win to Haapakoski.
A pair of cagey veterans were next. Jim Parks would take on Dan Manesis and would take an advantage over Dan's Colt off the line, as Manesis lost traction by 100′ and clicked it off.
Tyler Shenuk in the STP Firebird and Mike Morrill in the Iaconio & Allen Monza would line up next. Shenuk got a big jump on Morrill, holding his lead to the finish line.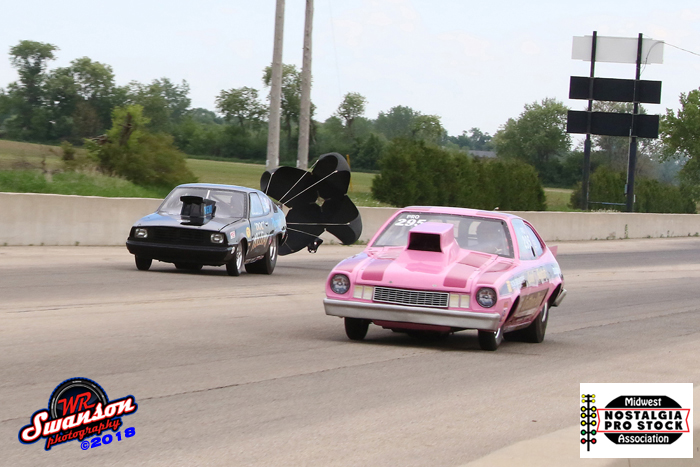 There was great anticipation for the Kelly Dill-Arlee Williams match after an ignition problem sidelined the "Doc" Holliday Arrow on Saturday. Williams drilled the tree with a .026 light and left the 'lil Cotton Pony sitting on the line. Yet when the pink pony left the gate it overtook the Plymouth for a very close win.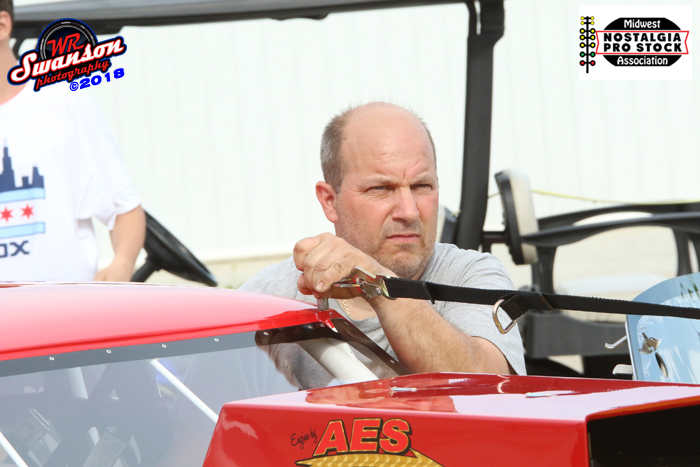 Chicago Wise Guys 2017 Champion Chris Shenuk (and Tyler's Dad) had an unfortunate scrap with the wall on Saturday, rendering his Firebird to the trailer for the rest of the weekend. Then a plan was hatched to have Chris attempt to qualify Dan Manesis' NPS Colt with the CWG and possibly earn points. Cray, right? Not really…. Shenuk wheeled Dan's Colt to a 7.572 ET at 185.68 MPH! Best run ever for the car, and even though the run wouldn't get Chris into the four car eliminations field, there was one more qualifying round to go.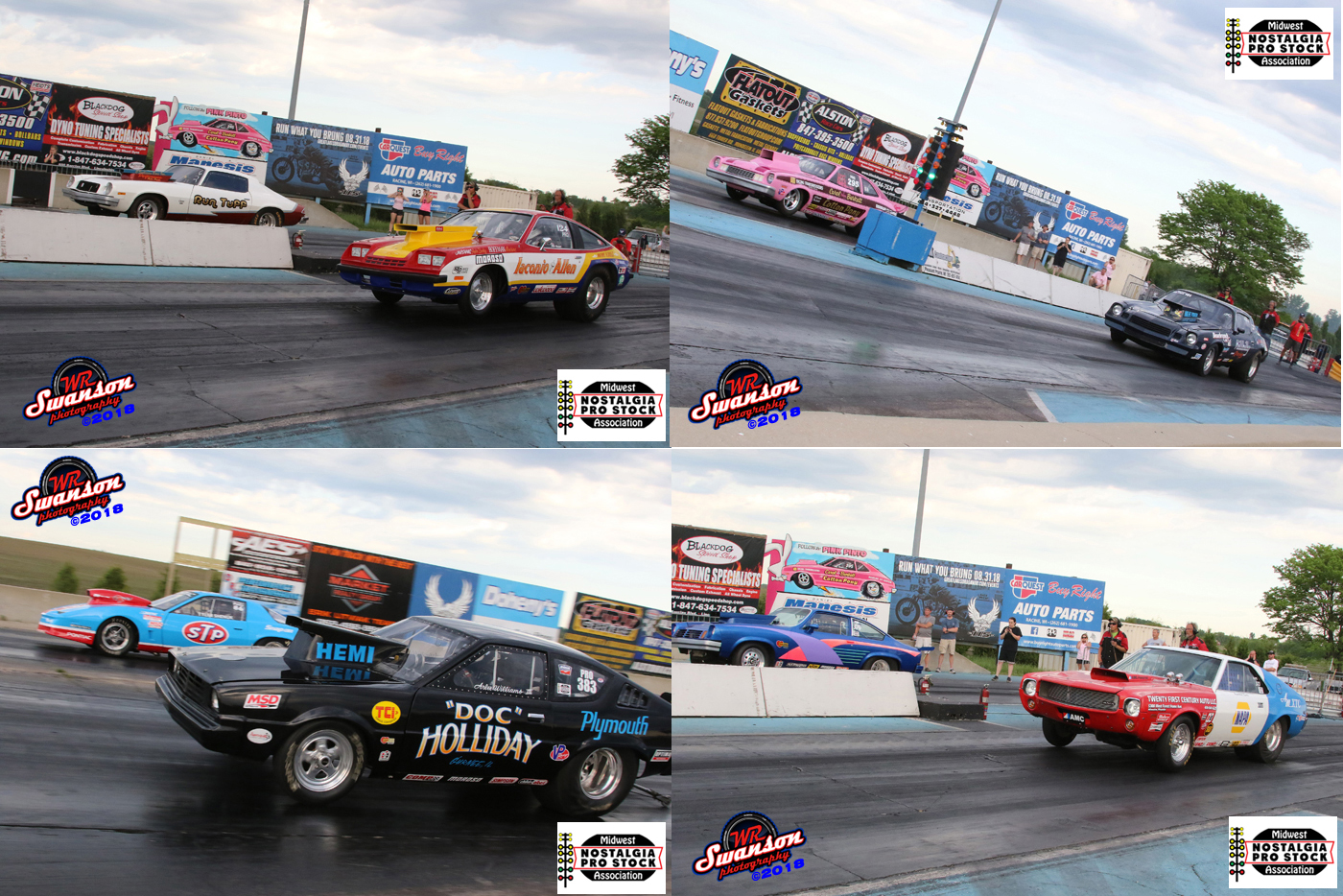 Early evening and it's time for our second of three rounds. Mike Morrill would take on Barry O'Sullivan, who would "Run Tuff" but still finish behind Morrill.
Arlee Williams wanted redemption from his Day 1 loss to Tyler Shenuk. He'd get it in this round by virtue of an outstanding .018 RT, and 8.891 ET to Tyler's 8.961.
Kelly Dill and Jerry Douglas matched in this round with Kelly getting the win.
Hannah Fleischman earned a hard-fought win at both ends of the track over Bob Haapakoski.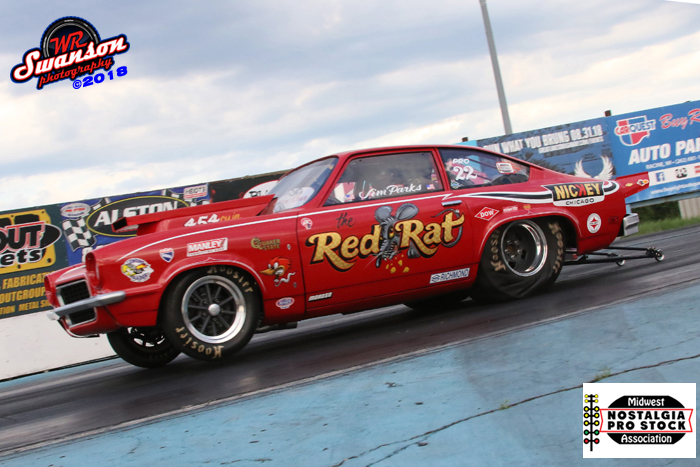 As the Colt of Dan Manesis would again be pressed into duty with Chris Shenuk and the CWG, Jim Parks took the Red Rat Vega on a single run of 8.680 at 151 MPH.

Chris would make another attempt to qualify the Colt in the CWG final session.  While improving on the previous run with a 7.488 ET at 185.75 MPH, they fell just short of getting in the field.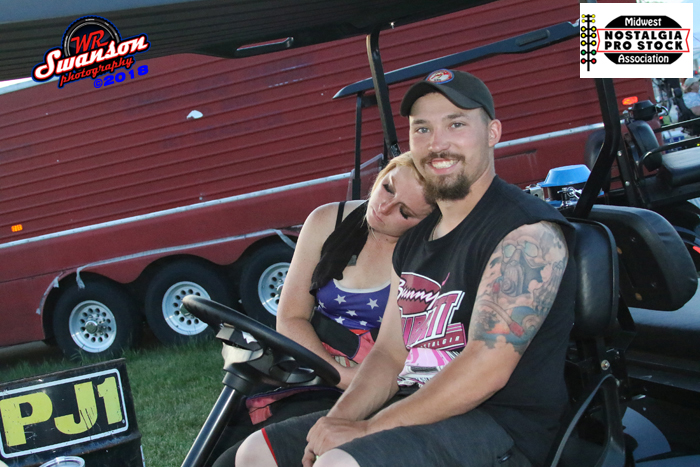 With the Sunday program taking a hit due to on-track incidents, our second round would be our lat of the weekend. Which is just as well, as most of us were feeling a little tired….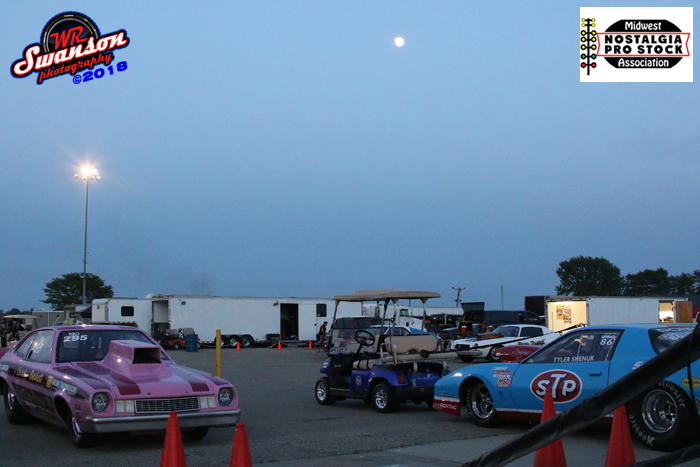 …and with that we loaded up under a full moon in the Wisconsin night sky.
Saturday Photo Gallery    Sunday Photo Gallery
The Midwest Nostalgia Pro Stock Association would like to thank Great Lakes Dragaway for again having us at this spectacular event. Join us there for our next race, the Nitrous Street Car Brawl on Saturday June 3, 2017.  Visit the Midwest Nostalgia Pro Stock Association webpage to view our full schedule, news, driver profiles, galleries and more. And please visit and "Like" our Facebook Page for chat and the latest information.