Coming off a successful outing at Byron Dragway's Summer Thunder, the Midwest Nostalgia Pro Stock Association returned home to Great Lakes Dragaway for the August edition of the Nitrous Street Car Brawl.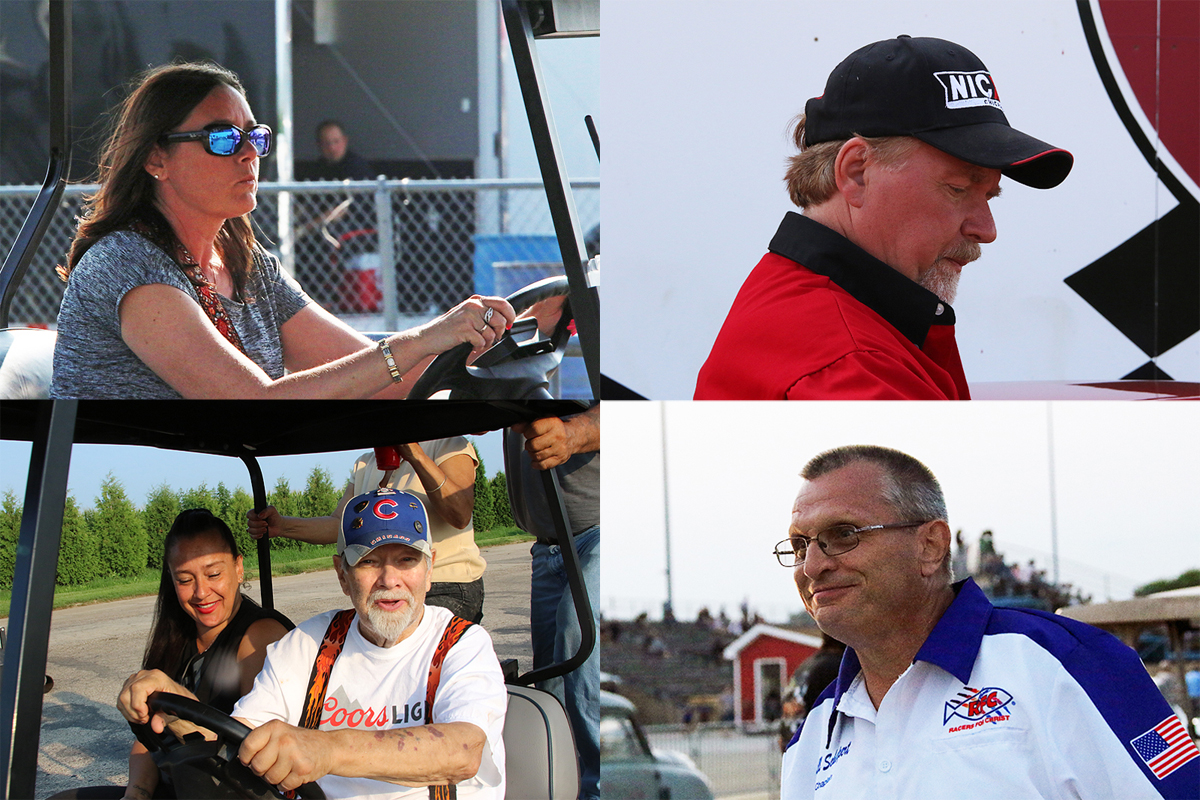 With flawless weather and great company, the day promised to be fantastic with Jesse Branham, Kelly Dill, Dan Manesis, Mike Morrill, Barry O'Sullivan, Jim Parks, Josh Parks, Tyler Shenuk and Bob Unger with their crews and hot rods. And let's just say, without folks like these, many working behind the scenes, this organization would not be the success that it is. Thank you all!

Now we get down to the first of three scheduled matches.
Leading off is Jim Parks and Dan Manesis, in a rematch from the previous race at Byron. Dan suffered mechanical woes that day, so he is out to put them in the rearview mirror. Jim just wants to put Dan in his rearview mirror. He does, but not as intended. Parks drops a big red light while running a stout 8.661 ET. Meanwhile Manesis, wanting to make sure the Colt is sound, eases it down the track to a 9.082.
Next up are two of our young guns, Kelly Lynn Dill and Tyler Shenuk. Both have earned reputations as leavers. Both have strong crews behind them. And we hear that any power advantage that one had over the other has been negated. So how did they do? After side by side smoke filled burnouts, Shenuk left on Dill with a .039 advantage and a big wheelie. He then legged the blue Firebird out, crossing the stripe 8.265 at 169.77 MPH to Kelly's 8.383 at 161.57. Now that was something!

Now we have Mike Morrill in the Iaconio & Allen Monza against Josh Parks' Yenko Nova. These two are a welcome sight since it's been a little while since they've been in action. Morrill got the jump on Parks, but went red and did not get a time. Parks kept his usual cool and cut a .040 light. He powered through the traps with an 8.992 ET at 149 MPH.
The flashy UngerTaker of Bob Unger would pair up with the Run Tuff Camaro wheeled by Barry O'Sullivan. Both made great burnouts, then it seems enthusiasm got the best of Barry as he left before the tree was activated, then Unger quickly followed suit. Neither got a time, but O'Sullivan crossed the finish line first.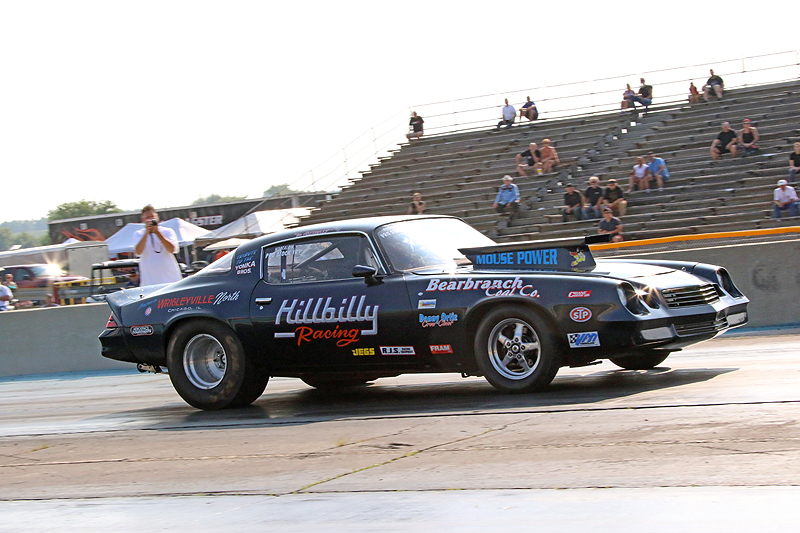 An uneven car count means someone draws the bye. This time it was Hillbilly Racing Camaro of Jesse Branham. Jesse had a new jockey in the car this race, but was kind of tight lipped about his identity, only revealing his name as "Jeff".  "Jeff" left the line strong with wheels up and carried the Wrigleyville North sponsored car through to a 9.823 ET.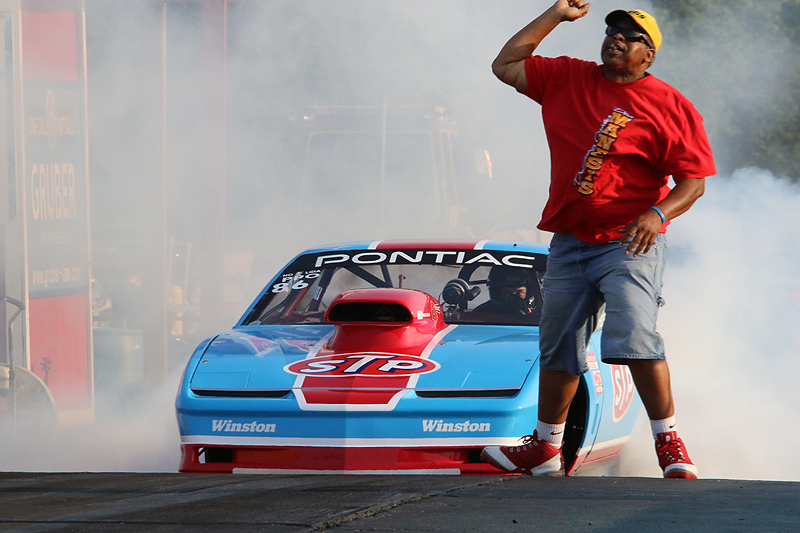 After a quick service and a bite to eat, the teams turned around and headed back in the lanes.
Rodney Daniels enthusiasm for sending Tyler out on long smoky burnout is evident…

….and Dan Manesis, Tyler's opponent followed suit, with Allie Shenuk backing up Dan while Mikayla Wassell tried desperately to keep up with Tyler.

After taking out Kelly in Round 1, Tyler wanted to take on Top Dog Dan. The Kid was first off the line with a .060 reaction time but Manesis wasn't far behind with a .077. Dan evened it up by the 1/8th mile and went around Ty, taking the win 8.035 at 161.08 MPH to Tyler's 8.22 at a big 169.42 MPH.
Another pair of big smoky burnouts meant it was Jim Parks against Kelly Dill. Kelly wasn't about to let another one get away from her and she was first out of the gate, carding a .034 RT. Parks was nearly as impressive with a .062. Soon the Ford and Chevy were door handle to door handle as Parks was caught up by 330', but Kelly's pony began pouring on the power. She crossed the finish line first with an improved 8.376 at 161.6. Jim's Red Rat also improved, posting a 8.581 at 152.

As Josh Parks sat across from Bob Unger in the staging lanes, a look of intense distraction free concentration took hold. That intensity was with Josh throughout the match, as he posted a .063 RT to Unger's late RT. Josh also improved in the ET department, picking up .020 from the previous round with a 8.979. Unger crossed the stripe with a 10.639.

We had an all Hillbilly Racing pairing here, with Jesse electing to send his Jimmy Ilosvay wheeled Malibu against the "Jeff" driven NPS Camaro. The Camaro left first with its characteristic wheels up launch. Right behind was Jimmy giving chase. Jeff turned the win light on for Jesse, but fell off his earlier pace with a 9.841 to Jimmy's 10.211.
Barry O'Sullivan and Mike Morrill would wrap up Round 2. Both are looking to keep the red bulb from shining. O'Sullivan leaves first, with a significant advantage over Morrill's Monza. Morrill has Barry caught by 330' then goes around the Run Tuff car, posting 9.270 to Barry's 10.518 ET. We need to mention that Barry's also getting the hang of these Pro Stock style burnouts. Very cool….

Kids aren't the only ones that get a thrill from sitting in these cars. Jim Parks treats a guest to that opportunity in the Red Rat, and she looks right at home.

Our third and final round is under the lights, with the air a little cooler. We will have four pairings as Jesse Branham's crew discovered a wounded engine in the Hillbilly Racing Camaro after the previous round, so it was wisely parked.
Leading off is a Dan versus Tyler rematch, and Ty's intentions are clear. Beat Dan. The STP Firebird leaps to a huge starting line advantage over Dan and the Colt, but Manesis erases that advantage by half track and keeps steaming to a spectacular 7.578 ET at 183.15 MPH! Tyler has nothing to hang his head over, as his 8.250 ET at 170.51 was defiantly impressive.
Mike Morrill wanted a piece of Kelly Dill's Manesis Transportation Ford, and he was given a shot in this round. Once the tree came down Kelly took an impressive .133 advantage at the hit and never looked back. She posted an improved 8.362 ET at 162 MPH to Morrill's 9.515 at 146.

Unger and O'Sullivan were next. Barry would Run a little "Tuffer" than Bob, stealing a .073 RT advantage and running an improved 10.417 ET while slowing to 127 MPH. Unger cards an improved ET and MPH, 10.611 at 133. Great job guys!
Wrapping us up is the Father-Son race, Jim versus Josh Parks. Both cut very good lights, with Josh typically doing a little (sometimes a lot) better than his opponents. That was the case here with a Best of The Day RT of .012! Josh held on for a little while, until Dad's Vega went around for the win, 8.572 at 151 MPH to 8.936 at 149.
With that we loaded up and began to prepare for the Time Machine Nationals on Labor Day Weekend. Join us on Saturday and Sunday September 1st and 2nd at Great Lakes Dragaway for their biggest event of the year.
Please continue to visit our webpage for the latest news, features and galleries. And check in with us on Facebook for the latest in news and information.